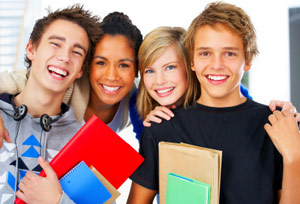 Irish students taking part in the Franco-Irish Exchange Programme will travel to France from Dublin airport. On arrival in France, each student will be met by their exchange partner and his or her family. It is through living with their French family and sharing the experiences of everyday French life that the Irish student will develop and enhance their French language skills; this will be of significant benefit in the Leaving Certificate exams, where the oral and aural components account for 45% of the overall mark.
The name and contact details of their exchange partner will be sent to each student prior to departure, giving them time to write and get to know each other before the exchange begins. While in France, students must be willing to make an effort to adapt to the French way of life and speak French on all occasions, recognising that what is important is the desire to learn and get involved rather than the level of French itself.
The Irish students can travel to France during the school year or over the summer months at a time of their own choosing. Their French exchange partners will typically return over the months of June and July.
The total cost of the exchange programme is €750, which covers the organisation, return flights to France, 20kg check in baggage, and the payment of the French organisers.
Completed applications forms along with a two recent passport-size photographs and a copy of the travelling student's passport should be emailed to francoirishexchanges@gmail.com
A booking deposit of €350 is required to secure a place on the exchange programme.
For further details regarding costs for longer stays or for any further enquiries please Click Here to fill out our contact form or contact Mr. Colm O'Neill by telephone at 0863488490